easter
photography
porter
walk
I'm BAAAAACK :)
6:19 PM
I had a nice break, thanks :)  Life has been crazy and not that great, and I find that when I'm stressed out and not happy I would rathe...
I had a nice break, thanks :)
Life has been crazy and not that great, and I find that when I'm stressed out and not happy I would rather just not blog...because I really had nothing positive to blog about to be honest.
BUT I kept taking pics, so this post is loaded with them.
I don't want to get too far into it, but this is what i've been busy doing:
Looking for an apartment. In Denver. I'm moving out.
Things aren't working out here at home, and it's better for Porter to have two happy parents who are apart rather than two unhappy ones who are together.
Honestly, it's been a long time coming.
So that's that.
I am actually really excited to have my own place to decorate and make pretty! I haven't decided on a one bedroom or two yet...but probably will end up just going with a one bedroom (if it's big enough for me and Porter) because really, Porter doesn't need his own room at this point. He already sleeps with me every night anyways...
I haven't had that good of luck finding one, it sucks. I don't really want to live in an apartment that doesn't at least have a balcony...I like to be outside, and it will drive me crazy if I can't just go out my door and have my own space outside. I would really love to find a house that's been converted into apartments, but we'll see. Like I said, I haven't had very good luck finding what I'm looking for yet.
I guess I just have to be patient and keep looking...
At least I do have a place to live at the moment, so it's not like i'm under any time constraints or anything, but the sooner the better...
So anyways.
Porter and I took a walk the other day...first walk he's taken :) He kind of slept the whole time, but he seemed happy.
My lame attempt to take a pic with my camera sitting on the trunk of my car and the timer set. I really need a remote I decided.
I tried Porter's Bumbo for the first time the other day. SO FREAKING CUTE. Haha. He's not quite amazing at holding his head up, but he's getting pretty dang good at it thus far :)
(he looks so freaking tiny in it, haha)
So here's a couple pics of that, and some others too.
I love his "I still live with my parents" onesie, cracks a momma up.
And his Woombie...LOVE LOVE LOVES it. He falls asleep so quick in it. GREAT BUY.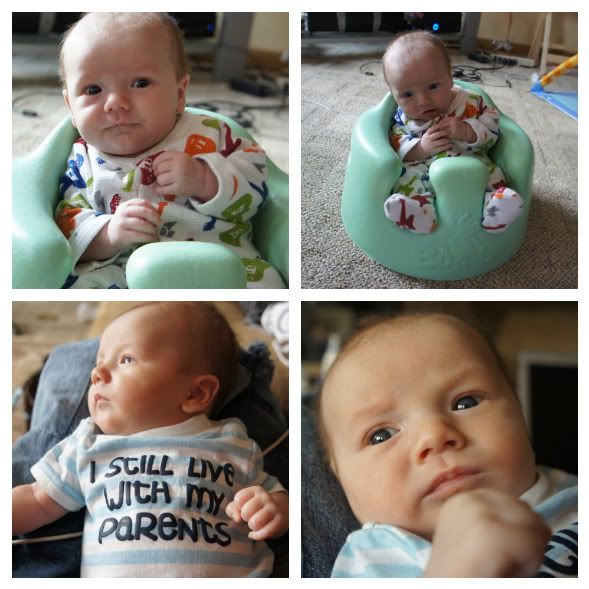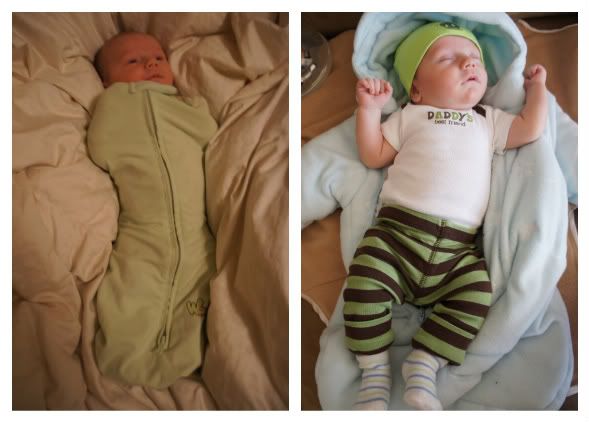 PORTERS FIRST EASTER!
We went to my friend Charlotte's house- it was a great fun time :) So happy to have a friend like her in my life (and her awesome family in my life too!)
He wore jeans for the first time, and they made him look like such a BIG boy. He's growing soooo fast!
Alright, well that's all for today.
Glad to be back in the blogging world :)
Please vote every day...for my awesome blog....come on....do itttt :)